Driving Range & Complimentary Practice Facilities
Saskatoon Golf Club is home to one of the best practice and largest facilities in greater Grand Rapids. So whether you're fine-tuning your swing or learning the basics of golf, we invite you to experience our practice resources to improve your game. You'll find that our facility is user-friendly for golfers of all ages and skill levels.
All-Grass Driving Range
A seven-acre driving range offers 15+ hitting stations, target pins and distance markers ranging from 75 to 250 yards to improve your distance control and accuracy. The all-grass tee is rotated daily to give you a true fairway experience. For your convenience, Saskatoon offers an automated ball dispenser at the range site in three distinctive sizes. The ball dispenser take credit/debit cards, exact cash ($9, $11, $13) or PIN codes and range cards sold in our Pro Shop.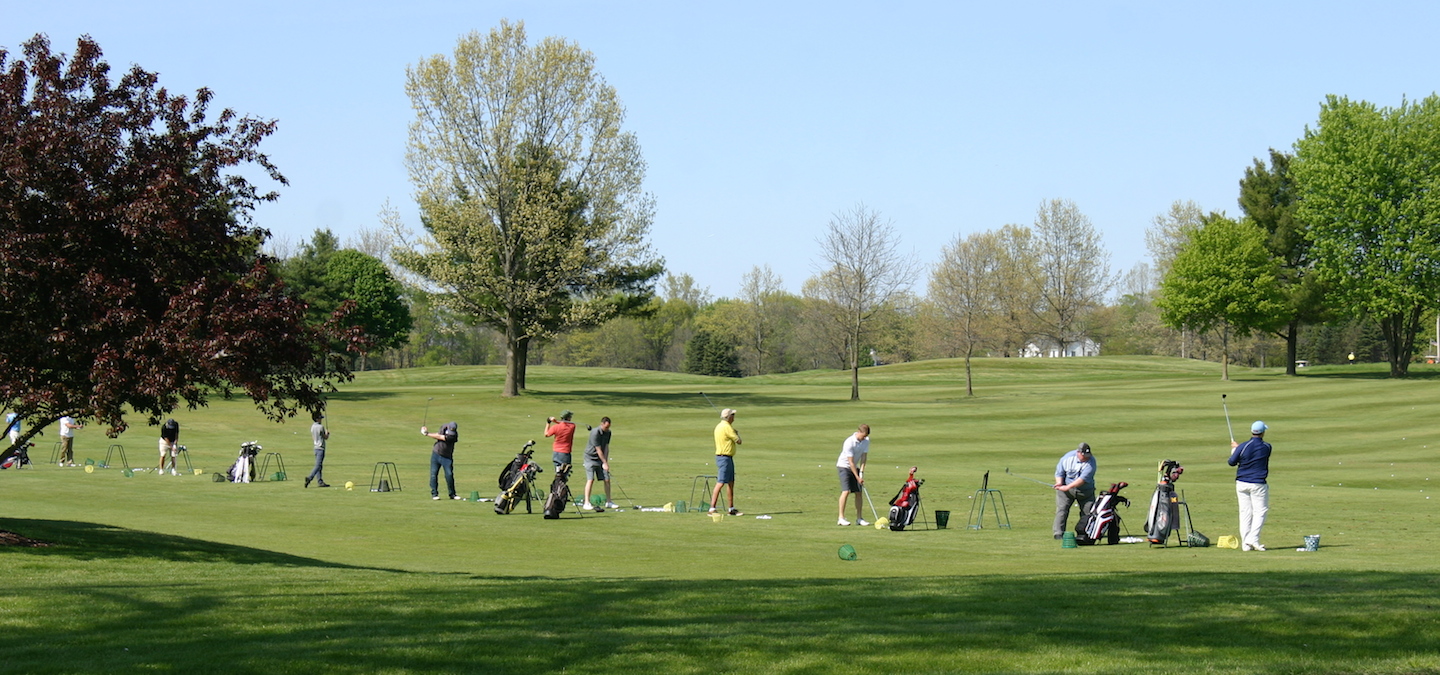 Range Basket Pricing
Small (40 Balls) – $9
Medium (70 Balls) – $11
Large (105 balls) – $13

Hours of Operation
Daily (weather permitting) 30 minutes after sunrise to sunset. Closed until 9am on Mondays and Thursdays for turf maintenance.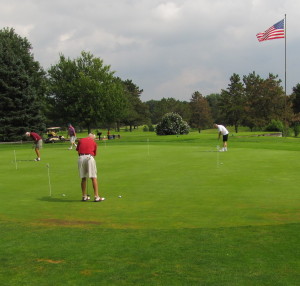 Short Game Practice Facilities
Near the driving range is our sand and short game practice facility. This area includes a green surrounded by an expansive chipping area and a colossal sand bunker to help you fine-tune your short game. The area offers many different lies and changes in elevation – a great environment to get creative with different shots! A large putting green is nearby for perfecting your long and short putting skills. A second large practice green (pictured) is also available just outside the main clubhouse on the south side of the road.
Three-hole Course
The Saskatoon Three-hole Course is a great option for all skill sets looking to sharpen their skills from tee to green in a true course environment. Since it's possible to loop the course in less than one hour, many golfers find the Three-Hole Course ideal for days when work and family compete for his or her time. Additionally, the Three-Hole course offers those new to the game the opportunity to learn about golf course etiquette and the traditions of the game in a low-pressure environment. The cost to play the Three-Hole course is $6.
Three-hole plus Driving Range Special Pricing
Three-hole + Small Basket (40 Balls) – $13
Three-hole + Medium Basket (70 Balls) – $15
Three-hole + Large Basket (105 balls) – $17

For detailed information on our golf clinics, player development programs for adults and juniors, and private instruction, please visit our lessons page or call (616) 891-9229 ext. 9.